SIEM REAP, Cambodia — The giant mural in the foyer depicting a smiling stone face offers a mere taste of the grandiosity within the new Angkor Panorama Museum here. Inside, a 360-degree painted vista covers an area the size of nearly four basketball courts. Over 45,000 figures populate this cyclorama, a depiction of 12th-century Angkorian history.
Visitors at the new 360-degree panoramic installation at the Angkor Panorama Museum.CreditLuc Forsyth for The New York Times
The museum, which opened in December, is a sweeping homage to what historians call one of the greatest cities in the world between the ninth and 15th centuries and the capital of the Khmer empire. But almost everything that went into this building — the money, the concept, the design and the artists — came not from Cambodia but from North Korea, namely, Mansudae, the largest art studio in that country.
At a time when much of the world's focus is on North Korea's mercurial leadership and nuclear capabilities, this studio's work is quietly making its way beyond the borders of that hermit kingdom. In recent years, monuments and sculptures made by Mansudae artists, modern-day masters of Socialist Realism, have popped up in Africa, the Middle East, Southeast Asia and even Germany.Photo
A detail from the panorama, which depicts 12th-century Angkorian history
.CreditLuc Forsyth for The New York Times
The Angkor Panorama Museum is the studio's most ambitious foreign project. It took 63 artists, flown in from North Korea, four months to paint the cyclorama.
"Mansudae has great talent and a good reputation in artwork, painting and construction," said Yit Chandaroat, acting director of museums for Apsara, the government agency responsible for managing the Angkor complex, explaining why Cambodia chose its partner.Photo
The work includes over 45,000 figures. CreditLuc Forsyth for The New York Times
Mansudae Art Studio in Pyongyang, founded in 1959, is one of the world's biggest art factories. It employs about 4,000 people, including 800 to 900 of North Korea's most talented artists, according to Pier Luigi Cecioni, its representative in the United States and Europe.
The studio produces a variety of works, including most of the propaganda art and sculptures that dot North Korea. Its artists are said to be the only ones permitted to portray that country's ruling family, the Kims. In 1972, it built a 66-foot-high statue of Kim Il-sung, North Korea's founding leader and the grandfather of the current leader, on a hill in Pyongyang, the capital. A second, similarly sized likeness of Kim Jong-il, Kim Il-sung's son and successor, was added beside the original in 2012 after Kim Jong-il's death.Photo
The African Renaissance Monument in Dakar, Senegal.
CreditNichole Sobecki for The New York Times
Starting in the 1990s, Mansudae also began taking on outside projects. Governments in Southeast Asia and Africa have commissioned its artists for large-scale projects at low costs, among them the African Renaissance Monument in Dakar, Senegal, and the Fairy Tale Fountain in Frankfurt. The studio also maintains a gallery in the 798 Art District in Beijing, opposite the Pace Gallery and the Faurschou Foundation.
Mansudae's overseas division first approached the Council for the Development of Cambodia, the government's investment board, with a proposal to build a museum in Siem Reap several years ago, Mr. Yit said.
Cambodia and North Korea have historically maintained strong ties, based largely on the personal relationship between Kim Il-sung and King Norodom Sihanouk of Cambodia, who died in 2012.
In the 1970s, that North Korean leader gave King Sihanouk, who once referred to Mr. Kim as "more than a friend, more than a brother," a palace outside Pyongyang. During his many years in exile, the Cambodian monarch spent several months annually in North Korea and even wrote and directed a series of films starring North Korean actors.Photo
The museum's foyer. CreditLuc Forsyth for The New York Times
Today, North Korea operates several restaurants in Cambodia, part of a growing overseas restaurant franchise that experts say is an important revenue generator for the financially struggling government in Pyongyang.
Unlike the restaurants, however, experts say that Mansudae, though state-run, enjoys relative autonomy from the government, including on decisions involving foreign outreach.
"I don't see this museum as an attempt to project soft power," said Nicholas Bonner, founder of the Beijing gallery Koryo Studio, who has worked with Mansudae for more than 20 years. "Mansudae is a massive studio, and they need to keep working to bring revenue in from inside and outside of the country."
The Angkor museum differs from past Mansudae projects in one significant way. According to museum officials and experts, it is the first in which Mansudae, which usually works on a commission basis, has invested a large amount of money.Photo
A worker in the museum's gift shop. CreditLuc Forsyth for The New York Times
"It doesn't seem to fit into the profit-making aspect that we usually hear about Mansudae," said Adam Cathcart, a lecturer at the University of Leeds in England. "But then again, there's always something going on behind the scenes when it comes to North Korea."
Neither Mansudae nor the North Korean Embassy in the Cambodian capital, Phnom Penh, responded to requests for comment relayed by email, telephone and Cambodian museum officials.
Construction of the Angkor Panorama Museum began in 2011. Mansudae designed the structure and the cyclorama in consultation with a committee made up of Cambodian government officials, Mr. Yit said.
Proceeds from the museum are scheduled to be disbursed in three stages. Initially, revenue will go to Mansudae. After 10 years (or less, if costs are recovered before then), both sides will share revenue. And in the third and final stage, the museum — both the property and the management — will be transferred to Apsara.
Long Kosal, a spokesman for Apsara, said the museum was part of a long-term plan to diversify attractions at the Angkor complex and minimize the impact of growing numbers of tourists at the temples. More than 2.5 million foreigners visited the complex last year, up from about 400,000 in 2000, Mr. Long said. He said he expected an influx of tourists to the museum soon, after the central ticket booth for the complex is moved to a new building next to the museum, which is not formally part of the complex. The entrance fee for the cyclorama section is $15 for foreign tourists.
In the meantime, museum officials say they are averaging only about 20 visitors a day. On a recent afternoon, there were almost none to be seen. As one of the few approached the main hall, a worker rushed to turn on the lights, explaining that the staff had been instructed to keep the lights and air-conditioning at a minimum to save money.
"It's very hot and humid here, not cool like back home," a young North Korean woman working in the museum cafe said in fluent English. "It's been difficult to adjust."
Cultura e conhecimento são ingredientes essenciais para a sociedade.
A cultura é o único antídoto que existe contra a ausência de amor.
Museu em Siem Reap (Camboja) impressiona por abrigar um impressionante mural em 360 graus.
O museu foi financiado pelo regime comunista da Coreia do Norte.
Museu tem mural em 360 graus do tamanho de quatro quadras de basquete.
Trecho do painel no museu do Camboja | Luc Forsyth/The New York Times
No mural estão mais de 45 mil figuras. O trabalho artístico reflete um período do século XII.
Um museu aberto em dezembro em Siem Reap (Camboja) impressiona por abrigar um impressionante mural em 360 graus cuja área equivale à de quatro quadras de basquete.
O mais curioso é que quase tudo no museu Angkor Panorama, contou o "New York Times", não veio de um grande investidor internacional do campo da arte.Dinheiro, conceito, design e artistas foram cedidos por um estúdio da Coreia do Norte.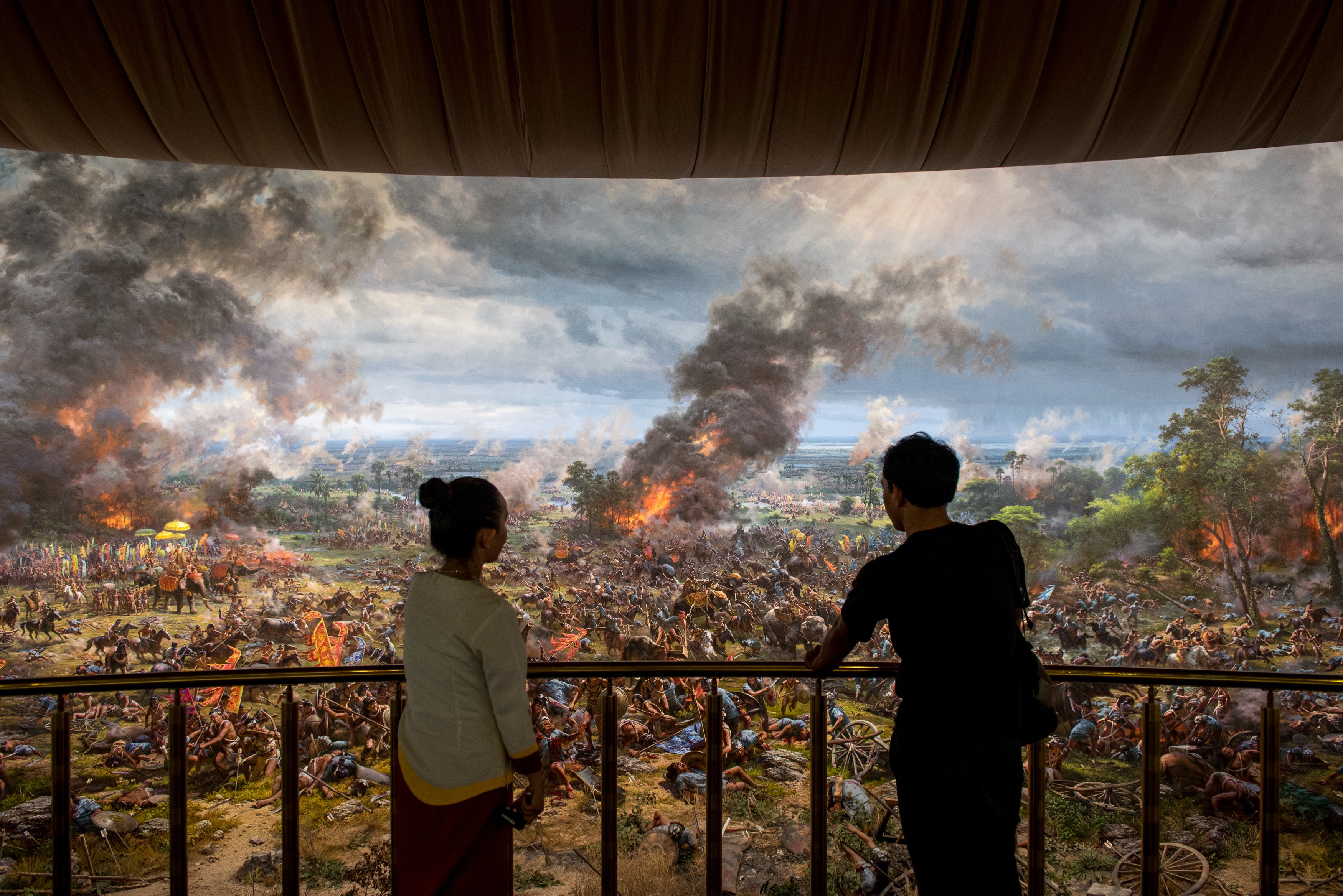 O museu foi financiado pelo regime comunista da Coreia do Norte
| Luc Forsyth/The New York Times
Apesar de pertencer ao país mais fechado do mundo, o estúdio Mansudae tem atravessado as fronteiras norte-coreanas nos últimos anos e aportado com trabalhos artísticos em vários países da África, do Oriente Médio, do Sudeste Asiático e até na Alemanha.
fonte: http://blogs.oglobo.globo.com/pagenotfound/post/museu-tem-mural-com-360-graus-do-tamanho-de-quatro-quadras-de-basquete.html