Apatity, Russia (67° 34'N 33° 24'E) is a town of about 60,000 people. The town was established in 1930 and officially gained town status in 1966. The town is located in the Russian administrative division of Murmansk Oblast.
The town name is derived from the local group of phosphate minerals referred to as "apatite." These phosphorus minerals are used in the production of fertilizers. The Murman railway that runs from St. Petersburg to Murmansk travels through the town of Apatity. Apatity is located between the Khibinsky Mountains and Lake Imandra. The town is near the eastern shore of Lake Imandra.
To the west of Apatity is Kirovsk (about 14 miles [23 km]) and 115 miles south (185 km) is Murmansk. The largest employer for Apatity is the Joint-Stock Company (JSC) Apatit. Apatit is the largest mining and concentrating venture in Russia and Europe. There are several museums in the town operated by the Kola Science Centre, Russian Academy of Sciences (KSC-RAS), such as the Museum of Investigation and Development History of the European North of Russia (operated by the International Cultural Center of KSC-RAS); the Geological museum; and the Mineralógica! museum (operated by the Institute of Geology KSC RAS).
Andrew J. Hund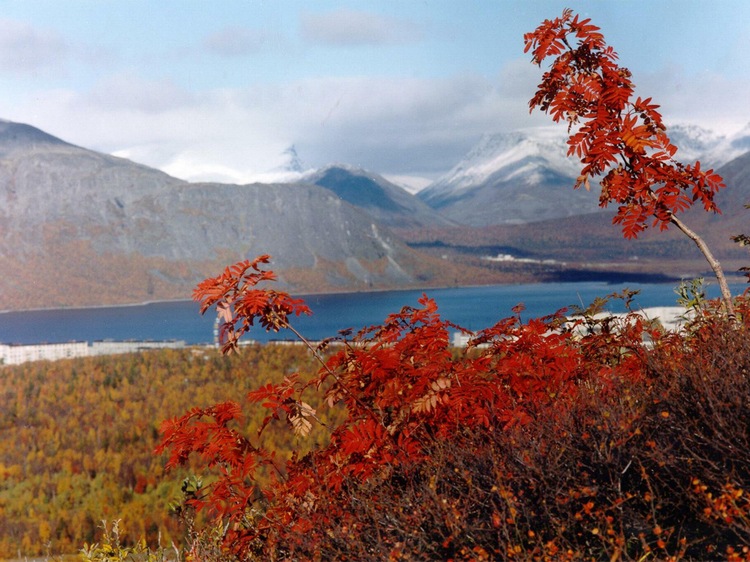 Apatity (Russian: Апатиты; IPA: [əpɐˈtʲitɨ]) is a town in Murmansk Oblast, Russia, located along the Murman Railway between Lake Imandra and the Khibiny Mountains, 23 km (14 mi) west of Kirovsk and 185 km (115 mi) south of Murmansk, the administrative center of the oblast. The town is named after one of its most abundant natural resources in the area, apatite, the raw mineral used in the production of phosphorus mineral fertilizers. Population: 59,672 (2010 Census).
Museum of Investigation and Development History of the European North of Russia (International Cultural Center of KSC RAS);
Museum of regional studies and history (municipal);
Geological museum (KSC RAS);
Mineralogical museum (The Institute of Geology KSC RAS) Special permission is required.
Kirovsk - is a neighbor town located at the spurs of the Khibiny Mountains on the shores of the Lake Bolshoy Vudyavr. There are lot of buses between two towns (approx. 20 min).
Kirovsk - the mining industry centre. The "Apatit" mining and beneficiation complex, which has given life to the city, consists of four mines, two concentrating factories, railway and motor transportation shops, auxiliary divisions. The main type of products – an apatite concentrate which is a sourse of phosphorus (P2O5 content > 35.7%) and REE. The main consumers of production are the Russian and foreign superphosphate factories.
Additionally "Apatit" makes a nepheline concentrate which is used for receiving aluminum, potassium, sodium, production of textiles, faience, fertilizer of sour soils; the titanite concentrate used for production of titanic whitewash and the metal titan.
fonte: @edisonmariotti #edisonmariotti http://alkaline.web.ru/